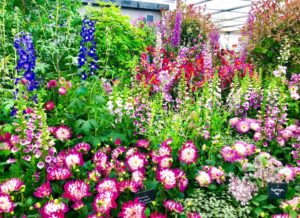 Last week saw another spectacular year of the RHS Chelsea Flower Show in London, where blossoms were blooming, and creativity was flowing across all the miraculous exhibitions on display. Hosted in the grounds of the Royal Hospital Chelsea, the home of retired British Army soldiers, the event brings in around 157,000 visitors each year and never fails to impress locals, tourists and of course – the Royals.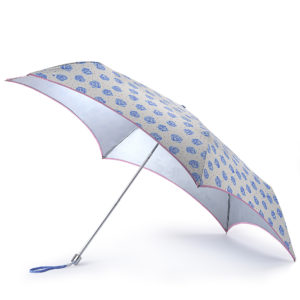 Last year we saw a plethora of emerging trends, but what made 2019 so special? Aside from the gleaming sun, where our UPF 50+ Parasoleil UV Spotty Rose would have certainly came in handy and will do in the coming summer months, protecting you from 99% of the sun's UV rays, there is a lot to recap on!
The Duchess' Debut
You may have seen some photographs circulating the media recently of the Cambridge's pondering in a stunning garden. Did you know that this was designed specifically for the week-long extravaganza? With the help of Andrée Davies and Adam White, the Duchess of Cambridge co-designed the RHS Back to Nature Garden and was very hands on during the process. She even received some help from George, Charlotte and Louis!
As this was a Feature Garden, it wasn't in with a chance of winning any awards. However, that didn't matter as Prince George told his father, Prince William, that he would score the garden '20 out of 10' which is a huge complement from our future King!
Plant of the Year
You may be familiar with the Plant of the Year Award at the Chelsea Flower Show, and this year's winner was very impressive. Out of 20 contenders, the Sedum Atlantis took first place. The award was announced in the Great Pavilion, where all 20 plants were on display.
But what makes the Sedum Atlantis so special? Well, it's extremely low maintenance which is one bonus — meaning it never fails to look good. As a hardy stonecrop, the plant itself is drought tolerant and is easy to grow. From June to September, it forms 30cm high cushions of variegate foliage topped with yellow flowers. As well as this, they're extremely attractive to pollinators!
BBC People's Choice Award
For the second year running, Mark Gregroy copped the BBC People's Choice Award for his Welcome to Yorkshire Garden. The display itself was his 99th garden and also won him a Gold medal and hosted some famous faces — including Dame Joan Collins and Dame Judi Dench. However, one of the best complements he received was from Hollywood A-Lister, Stanley Tucci, who described it as stepping into another world.
Gregory commented: "I want to thank everyone that voted for us, I couldn't be happier. It's such an honour to receive this accolade again and to have been able to share the place I call home with the world is a privilege. It seems that people love Yorkshire as much as I do!"
Best Show Garden Award
Everyone wants to win the Best Show Garden, there's no doubt about it. However, judges called Andy Sturgeon's M&G Garden 'perfection' when naming him this winner. The woodland landscape embodied a naturalistic sensation and lavish planting definitely impressed visitors. One area of the garden that must be mentioned is the burnt oak timber, which was definitely a focal point!
Believe it or not, this is Sturgeon's eighth Gold win — but what was his mission behind this particular design? Speaking on the creation previously, he said: "I want visitors to think "wow!" when they first see it, then be drawn into the detail and engage with it – to look closely at individual plants and the water in the garden. In fact, they could recreate our use of waterspouts at home, using just one to have water falling into a small pool,"
Those were some of this year's RHS Chelsea Flower Show highlights, and we can't wait to celebrate the next in 2020. With summer finally here, it's time to pay more attention to our beautiful gardens and create an immersive experience that everyone can enjoy!