Halloween is definitely growing in popularity for families across the UK. But with sweets, treats, costumes and activities to pay for, the event can prove costly for some of us!
So, how do you make sure your family has a fun and memorable Halloween without breaking the bank? Instead of buying new things online, repurpose clothes and accessories from around your home. Not only will you save money, but this is also a great crafts activity you can enjoy with the kids…
Ghost ornaments

If you're having a party, you need to deck out the house appropriately. Instead of forking out cash for decorations, make your own! Start with 'mini ghosts'. Simply keep hold of your drinking bottles instead of recycling them and spray paint these white. Once dry, draw ghost eyes and mouths on each with black marker pens and place them around your home.
Scary bingo

There are plenty of games to buy online, but if you want to get creative, do your own. One great idea is 'Scary Bingo' — just like the regular game, but you use spooky images instead of numbers.
Get several pieces of paper — enough for everyone at the party — and mark out a grid of four-by-four squares. In each, draw a picture of a Halloween image — like a witch, spider, black cat, pumpkin, ghost, and monster. Kids can then use pennies to mark off when each image is called out — make sure there's a prize at the end for the first full 'haunted' house!
Halloween can game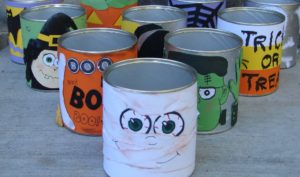 Another easy game to create at home before a party, the 'Halloween Can Game' is great fun for kids. To start, keep your used cans of soup, baked beans and other food. Remove the labels and paint faces of ghosts, witches and pumpkins.
Then, make a mummy-themed papier-mâché ball by using black felt-tip pen and paint to mark out bandages and two yellow eyeballs. Once dry, create a tower and let the kids use the mummy ball to knock down the tins. (You can also use papier-mâché to make a Halloween-themed piñata filled with sweet treats!)
Bat costume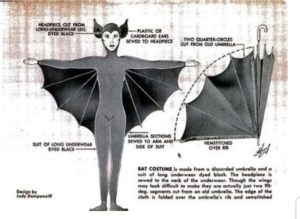 Of course, kids love dressing up for Halloween. So, why not make them the perfect bat costume out of a simple umbrella? All you need are:
A black umbrella.
Scissors.
Wire cutters.
Tape.
Two metres of black ribbon.
Firstly, open the umbrella upside down on a workbench. Take your scissors and cut two triangles of material opposite each other — make sure one of the triangles is a bit smaller than the other. This is for recognising the top and bottom of the wings.

Use your wire cutters to cut the metal supports — for safety, take off as much metal as you can to eliminate sharp edges. Then, cut the metal handle off the umbrella before cutting the joiner from all the umbrella arms. Next, remove the support arms from either side of the larger triangle of your bat wings — this lets your youngster move their arms!
Now, tape down the other loose support arms — making sure to cover sharp edges. From here, measure and cut two pieces of ribbon. How long? Just enough to tie the wings to your child's wrists. Afterwards, cut two longer pieces of ribbon — these must go across their shoulders and chest, as well as under their arms, and tie together at the back. Next, attach the ribbon to top of the wings.
And you're done! Now all you need is a headband with black, pointed ears and plain black top and trousers.
Spooky dinner party pieces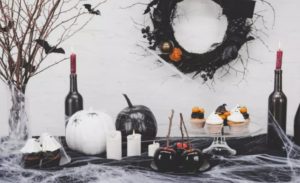 Throwing a dinner party to celebrate the event? Then you need Halloween treats that can sit on the table. To start, you can use plastic vampire teeth as napkin rings, then add to the effect by putting red food colouring on the white cloth.
For a centrepiece, take a glass vase you already own and fill it with spare Halloween pieces the kids have left over from across the years — like plastic spiders. Pull apart cotton wool balls to create a cobweb-like effect. Then, sprinkle some discoloured, browning leaves from the garden over the top for the ideal Halloween-themed centrepiece.
Cut the cost of Halloween with these repurposing craft tips for Halloween 2018! Browse our ranges of men's, women's, kids', sports and designer umbrellas before you get to work!