Enjoying the Outdoors : Which City Picked Picnics?
A new study from Fulton Umbrellas has revealed the UK city that us most likely to research for picnics and other outdoor activities.
Which summer approaching  and the regained freedom to meet our friends and families outdoors, we've reviewed the UK's Google searches to reveal the cities that are most likely to pick up a tartan blanket and straw basket and take to the parks and gardens to enjoy a picnic or other outdoor activity.
The study analysed 114 research terms that related to picnics and outdoor activities, including 'picnic sites', 'disposable  BBQs'. ' park near me', and 'picnic in the rain'. Comparing the number of times these terms have been searched in the 20 most populated cities in the UK, the results were broken down by each respective city's population. The data revealed which location are ready for some al fresco lunch and where people may prefer to stay at home.
Newcastle upon Tyne is the city most likely to enjoy a picnic. People in Newcastle searches for picnic-related terms 564 times for every 100,000 people in the North East city. This is 34 per cent above the national average.
Meanwhile, London was less enthused by picnic and outdoor activities, For every 100,000 people in London, picnic-related terms were searched only 269 times. This is 36 per cent below national average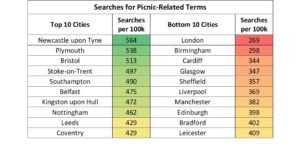 The data also reveals which city has had the biggest growing enthusiasm for outdoor activities. Measuring the growth of searches in each city between 2020 and 2021, we can see the cities that have a newfound appreciation for picnics and al fresco dining.
Liverpool had the most amount of growth in picnic-related searches. Between 2020 and 2021, their researches increased by 295 per cent.
No city reduced their searches for picnic-related terms, in no doubt because meeting outdoors has become one of the best and only ways  to enjoy each other's company during the pandemic. However, people in Glasgow showed the least amount of growth in searches, increasing their picnic-related searches by only 43 per cent.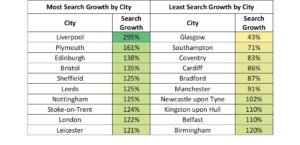 Will you be going to the local park for a picnic? It's important that you go prepared with all the essential equipment, such as a picnic blanket and camping chair.
Don't let the weather get in the way of your outdoor party or gathering – prepared with a range of luxury umbrellas, perfect for anyone in the family. Take the kids out for a garden party with kids umbrellas and let Dad shelter under his favourite golf umbrella. You'll be ready to brave any storm and keep the picnic going with a great windproof umbrella. No matter the weather, your picnic can still go ahead.