As parents, we document a lot of our children's first experiences and encounters — from captivating cinema trips to their first proper winter coat. But have you ever considered when to give your child their first umbrella?
An umbrella is essential for those living in rainy England, and although you may have one for yourself, your little one needs one too. A child's first umbrella is significant for their own development and allows them to feel a sense of independence at an early age.
With the festive season upon us, there has never been a better time to shop some of our fabulous children's umbrellas. But what are the key factors that will persuade you?

Colour & Illustrations
Although you may consider an umbrella to be a grown-up accessory, we design children's umbrella with their age in mind. We champion the creativity and imagination of your little one and therefore provide umbrellas with fun and engaging illustrations including jungle animals, striking flowers and the Queen's Guard — seeing as we have been appointed a Royal Warrant from the Queen herself.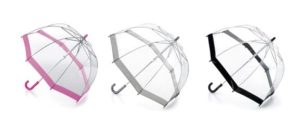 Designed With Height In Mind
We don't want your child to look uncomfortable when holding their brolly, and we want them to take pride in their new companion. To combat any problems of this kind, we've designed their umbrellas so that they're lighter in weight and easier to hold — preventing any hand injuries when opening and closing the accessory.
Stylish For The Street And The 'Gram
Your little one will become the most stylish kid on the block as an umbrella can truly bring any outfit together, especially when stormy weather occurs. Accompanied by a bright coat and wellington boots, your children can splash away in the puddles and you can capture some amazing memories for Instagram — slow-mo shots are a must!
Keeping You Both Dry
If you regularly walk outdoors to get from A to B, you can't go without a brolly — that's basic etiquette. Being prepared is essential, especially with irregular weather conditions here in the UK. If you want to keep both yourself and your child dry, your own umbrella won't do, particularly because of the difference in your height. By gifting your little one their own brolly, you'll be able to ensure that they don't get wet as you hold your clear umbrella much higher!
With bold and beautiful colours, your little boy or girl will look even more adorable in the rain!