As the early signs of autumn set in, we're preparing ourselves for some wet weather ahead. After a summer of heatwaves, it may hard to start thinking about snuggly and warm clothing and lots of layers.
But there's no need to worry; a little rain never hurt anybody! Plus, it gives us another excuse to fill our wardrobes with fantastic fall-season fashion.
If you're heading out on a grey-sky day, there's no reason to not look the part. So next time you leave the house, remember these brolly-pairing rules- because the fashion forecast says that it's cloudy with a chance of style.
Patterns to pair
Your umbrella is the perfect accessory- and partnering it's style with other accessories helps to establish themes across your outfits, This allows wardrobe essentials to take backseat and your smaller style choices do the talking.
Joules is the essential clothing brand of the British country lifestyle, and it's umbrellas can be easily paired with other patterned accessories. It's floral motifs and tartaned can be aligned with scarfs, bags, belts, and hats. Darker undertones on essential coats, jerseys, trousers and skirts will help embolden your overlayers.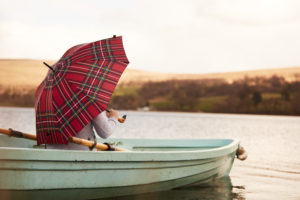 Sophisticated showers
Men can radiate refinement even in the wettest of weather with designer umbrellas. Ted Baker is renowned for quintessential British sensibility. Matching these brollies with smart-causal wear can elevate outfit from puddles.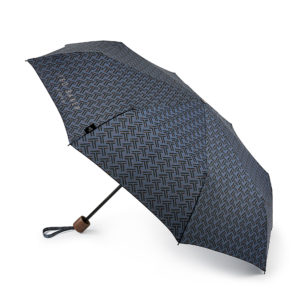 For umbrellas, geometric tiled patterns are in, characterising a steadfastness against the rain. Pair this patterns with relaxed tailoring that is set to dominate wardrobes this fall and winter. Oversized overcoats echo country living, layering on neutral tones. Providing that must-have snuggly layer, the humble fleece is set to be a uniquely formal addition to the season.
Brazen designs
Bold designs should not be shied away from when it comes to umbrellas, Designs can be worn to contrast your clothing. Easily drawing the eye, seasonal colours should be used to complement your outfits.
Print designs by William Morris have endured since the ninetieth century, and prints of his designs embolden umbrellas. Fauna and flora illustrations create a backdrop of your clothes, which you should aim to keep within muted block colours. Long wool coats further add to unifying Victoria motifs, combing classis fashion with modern distinction.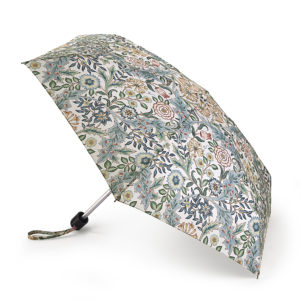 Be seen in the storm
Sometimes, it's best to let your outfit do the talking, Sheltering under an umbrella is convenient to avoid the rain, but you shouldn't feel enclosed, Transparent umbrellas are the perfect solution for staying dry but still allow for the light to shine on your clothing choices. Better yet, it can be worn with virtually any outfit, camouflaging itself to draw attention to the person holding the brolly rather than the brolly itself.
Clear umbrellas are used primarily on red carpets on rainy days. They are even favoured by the Queen on her visits around the world -it's the best way for everyone to see her and her bold outfits that always do down a storm.
Whatever your outfit, you can find an umbrella to match. We shouldn't let the weather rain on our fashion parade. Using this essential accessory to pair with outfits is the best way to always stay stylish. Fulton umbrellas is partnered with a range of fashion brands to produce the best designer umbrellas. Whether on the golf or a trip into town with friend on a wet day, be prepared to look the part with a golf umbrellas or pair outfits with luxury umbrellas.