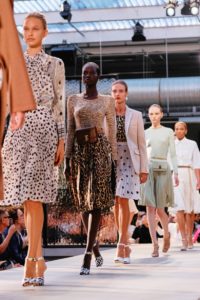 London Fashion Week (LFW) is one of the biggest events in the calendar for designers, models and trend-lovers alike. At Fulton Umbrellas, we love keeping our eye on the next big thing in fashion to make sure our collection stays on-trend and in vogue. So, what were the highlights from September's LFW?
Browse our run-down of the event right here — and get a head start on what's going to take fashion by storm…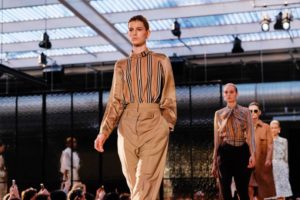 Dare to diversify.
Anyone who was even slightly interest in fashion was eager to watch the Burberry show at the latest LFW. Why? Because this was the debut of Riccardo Tisci, who was appointed chief creative director of Burberry in March. Fortunately, onlookers weren't left unentertained.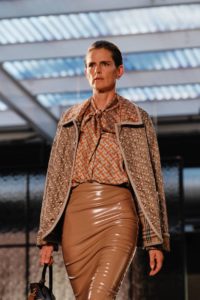 Tisci sent his models down the runway in a perfect blend of classic and contemporary outfits — ensuring this traditional British brand showed its power as a modern fashion powerhouse. Learn style tips from Burberry, which focused on both ends of the style spectrum — demure pussy-bow blouses, pleated midi skirts and elegant gowns at certain intervals, and bold graphic t-shirts with leather bottoms and overstated make-up at the other! Basically, go classic British — whether it's chic and feminine 1950s or punky and rebellious 1980s! Our William Morris collection is ideal if you want the vintage vibe.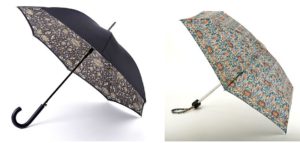 Keep it minimal
2018 is Victoria Beckham's tenth year in the fashion industry — and she celebrated it in style with her stand-out collection at LFW. Beckham was applauded for her stunning range of loose-fit, beautifully chic and minimalist designs that looked effortless, but packed a real punch among critics and the audience.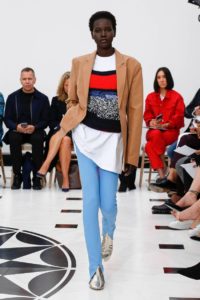 Using block colours set to be big in spring and summer next year — like baby blue and rust — she showed us how a simple pair of tailored trousers paired with a plain blazer and long t-shirt can work wonders. To enhance the simplistic-yet-powerful look, pair with a sleek black umbrella to stay on-trend in all weather.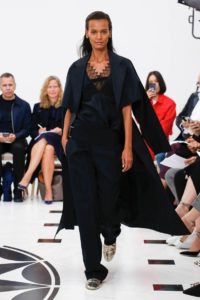 The ruche appeal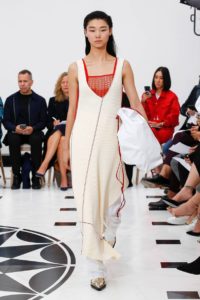 If Molly Goddard's collection is anything to go by, next season is all about ruffled clothing. Breathing life into a classic 1980s trend, ruffles on everything from skirt hemlines to shirt cuffs will be hugely popular.
Wonderfully feminine and adding a touch of fun to an outfit, fill your wardrobe with ruched tops and pair them with tapered trousers to highlight the ruched outline. Or, go for a long, ruched skirt and wear a fitted blouse on top so you don't go overboard on the ruffles! A retro, floral umbrella from Joules will look great with this style of outfit, we think, too.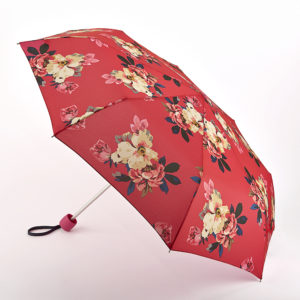 Layers of embellishments
Layering and embellished clothing were other top trends found across multiple catwalks at September's LFW. Take show, which featured models dressed in boxy jackets decorated with shiny metallics, dresses enhanced with tulle layering, and skirts featuring bird and leaf patterns.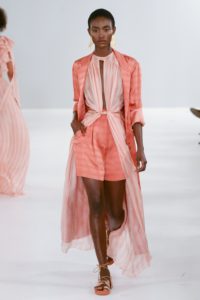 Sequins, shapes and colour reigned supreme at the Temperley London show — so why not bring the look into your style? Instead of plain shirts and tops, go for something with beaded embellishments or nature patterns in a lime green, electric blue or tangerine orange for a stand-out outfit that's ideal for SS19. And when it comes to choosing a skirt or dress, keep your eye out for mesh and tulle — a satin maxi skirt with a cream netted fabric over the top looks beautiful. Since colour is an important part of this look, choose an umbrella from our Cath Kidston collection.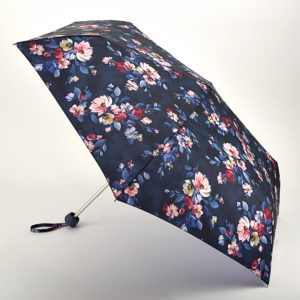 Edwardian styles
Our final top trend of LFW is the revival of Edwardian fashion. From lace dresses featuring chic high necklines to double-breasted blazers with a check pattern, Edwardian styles took over at the Erdem show.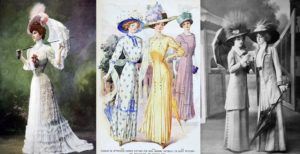 If you fancy following suit, keep your eye out for trouser suits, long skirts, frilled embellishments, puffed sleeves, and ultra-feminine frocks in soft, demure shades. Pair with simple court shoes and an umbrella from The National Gallery featuring a scene of a former, quintessentially British way of life and your style will be flawlessly in vogue!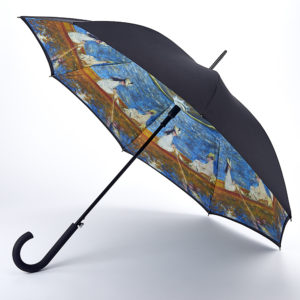 These are our highlights of September's London Fashion Week. Browse our collections of quality men's, women's and kids' umbrellas before you go.