Men's SS18 fashion and how to dress for spring
Spring is here and it's time to get rid of our winter clothes for some new styles. But, what's in fashion for men this season?
Here at Fulton Umbrellas, we've taken the best spring-summer 2018 (SS18) styles to help you get ready for holidays, garden parties and warm-weather excursions! Read on for top tips on the next big fashion trends and how to wear them…
Vertical stripes
Forget Breton stripes this spring, men's fashion is currently all about vertical stripes — whether these feature on your shirt, jacket or trousers.
To pull off the trend, stick to one striped garment per outfit. Either go for a dark and light-blue striped t-shirt with a pair of shorts when the day is fine or opt for a cream blazer with black pinstripes and jeans for the ideal formal summer party outfit. You can even prepare for a spot of bad weather with an automatic stripe umbrella, too.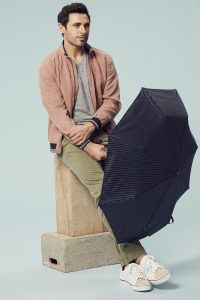 Straight leg, light-wash denim
Denim never goes out of fashion — but it does evolve with each new fashion season. One of the stand-out trends in last year's global SS18 fashion week events was the drive towards no-fuss denim. But, what does this mean?
To get in on this trend, look for jeans that are straight-leg, free of frays and embellishments, and light-wash in colour. This season is all about merging style and comfort, so forget about skinny jeans that wrap around your legs and go for a cropped jean with a pair of plimsolls or simple straight leg with a pastel-colour shirt for those warm spring evenings.
Checks
This season will revolve around checked clothing. If you're wondering when this print ever went out of fashion, you're right: it didn't. However, you should forget about the standard gingham shirt that many men throw on for a night out. Instead, go for enlarged checks or a heritage design to style up your SS18 look.
Similar to wearing vertical stripes, limit your outfit to one check garment per outfit. A grey and black checked jacket looks great over a pair of black jeans and a charcoal t-shirt. Or why not suit-up with checks? There are plenty of check blazers and formal trousers out there that will make an ideal outfit for any summer wedding you have scheduled this year. If you like the pattern but want to keep it subtle, a simple check umbrella — like our window pane or navy plaid designs — will do the trick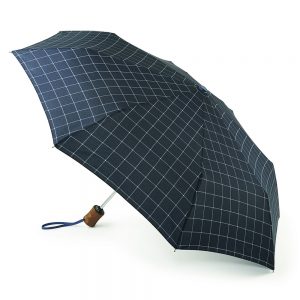 Tie-waist jackets
Even though the weather is warming, we still have plenty of showery and cooler days. When it's too chilly to go without outerwear, opt for a suave tie-waist coat to stay warm and on-trend this season.
Whether you prefer longline or mid-range jackets, making sure you have a tie-waist design will help you create a formal and flattering figure — plus, you can get these in a range of patterns and colours to suit the formality of an event and your personal taste. Pair with brogues or loafers to finish off the look.
Stylish, weather-proof jackets
While we're on the subject of outerwear, another top SS18 trend will also help you beat any bad weather we have coming up in spring.
Technical jackets — think anoraks and windbreakers — played a major part in the latest SS18 global fashion weeks. Get yours in a block-colour design and wear with plain jeans and a hooded top or go for a long style in a cool grey to go over your shirt and trousers for heading to the office. If it's a particularly bad day, polish of the weather-ready look with a wind-resistant Cyclone umbrella.
1980s revival
The decade of power suits, big money and bigger hair is back. From London to Milan, international fashion weeks were pushing the 1980s trend and bringing its best looks into spring 2018.
This season, look out for boxy shirts, creased trousers and light-wash denim. Then, bring them stylishly into your current wardrobe by pairing your '80s-inspired choice with brogues, trainers and bomber jackets.
Tropical shirts
This trend is ideal if you have a beach holiday coming up. The eye-catching style of a Hawaiian shirt is roaring back into fashion this season, so make sure you don't forget to pack a couple in your suitcase.
Just don't go over the top. Keep colours similar in tone and opt for pastel shades that look subtle — but great — in the sunshine. Pair with slim-leg chinos, combat shorts or ankle-length jeans for the ideal holiday-prepared outfit.
Shoe trends for SS18
But what are the big shoe trends for men this season? If you have a wedding or special event to attend this spring or summer, upgrade your formal footwear wardrobe with quirky-detailed formal footwear. Go for black derby shoes with a contrasting-colour panel or try a subtler design — such as a brown brogue with white trim.
Looking for something for days at the beach? The sporty sandal with wide straps and Velcro fastening is going to be the shoe-of-choice for many on-trend men in 2018, while 'amplified styles' — like pumped up soles and chunky boots — is going to be another big trend to get on board with this season.
Dress to impress throughout spring and summer 2018 with these style tips and check out our ranges of men's, women's, children's, and designer umbrellas to keep you dry from April showers.