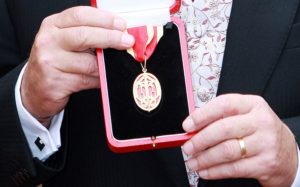 We all hope to one day make the Queen's Honours List, and it's something that our grandparents would definitely be proud of. As one of the highest esteems in the country, the given title can truly ensure that one's legacy and admirable work is remembered in years to come. As well as this, the award itself can be passed on down generations and ensure that they are fully aware of the achievements their ancestors had made.
But while the honour may be the highlight of someone's life or career, it can be taken away — and has been done so on countless occasions for those who have misbehaved. If a recipient does not continue to meet the expectations, the government has the permission to revoke the title and publish the decision in the London Gazette.
But which famous faces have lost their honours?
Anthony Blunt
Everybody knows that Queen Elizabeth loves her art. So much so, she appointed Anthony Blunt as an art adviser. He was in charge of the Royal Collection for 27 years and was knighted with the Royal Victorian Order (KCVO) in 1956.
However, his title was stripped in 1979 after he was exposed as a Soviet spy. Sources have suggested that his secret was known within different government circles, but was publicly exposed by Prime Minister, Margaret Thatcher in the same year. Did you know that he was offered immunity from prosecution in 1964 for his confession?
Alan Seymour Davies
Appointed his knighthood in 2000 for services to education, Alan Seymour Davies, a former headteacher of Copland School in Wembley, was revoked of his Knight Bachelor title in 2014. Davies pleaded guilty to false accounting and had created eight back-payment documents for sums which totaled £315,000 — despite earning a salary of £160,000 before resigning in 2009.
Fred Goodwin
You may remember Fred Goodwin as the former boss of the Royal Bank of Scotland (RBS), who was heavily criticized in 2008 following the firm's near-collapse. He allowed a multi-billion-pound deal to buy a rival company during the financial crisis.
Because of the purchase, which had a profound impact on the wider economy, the UK government were required to bail out RBS. His knighthood, which was given in 2004 for services to banking, was annulled by the Queen in 2012.
James Crosby
Unlike the others on our list, James Crosby actually asked for his knighthood to be removed. The Banking Standards Commission in 2013 described him as the 'architect' of the strategy that led to HBOS' downfall — seeing as he was chief executive of the firm between (2001-2006).
It was in 2006 where Crosby was knighted for his services to the financial industry, but he made a request for cancellation to the Honours Forfeiture Committee which they formally considered and later accepted in 2013.
Jean Else
Jean Else remains the only person to have lost her title as Dame and the reasons why are quite shocking. In 2001, she was given the title for her services to education after transforming the fortunes of Whalley Range High School in Manchester.
But in 2009, the General Teaching Council found that she promoted her twin sister from a clerical assistant to assistant headteacher. Fast forward to 2011, she was banned from running a school and her title was revoked.
Those were just some of the people who had their honours removed. Did you know that you could nominate someone who had made achievements in public life or committed themselves to serving and helping Britain?
If you know someone special, visit the government website and put them forward. While you're waiting for the letter to come through the post, we recommend you treat them to a birdcage umbrella. After all, Her Majesty herself uses them!