Looking to buy a new umbrella and want to treat yourself to something special? At Fulton Umbrellas, we have a wide range of beautiful umbrellas from the world's best fashion designers.
Featuring a range of colours, images and patterns; browse our list of the top seven designer umbrellas to find the perfect accessory for you…
7. Orla Kiely: Rhododendron Graphite
Orla Kiely is one of our favourite designers. Starting off her career by designing hats before moving onto bags, homeware and, of course, umbrellas; this Irish fashion designer has created incredible styles over the years.
We love this Kensington-2 Rhododendron Graphite designer umbrella by Orla Kiely for its monochromatic aesthetic. The dark grey shading contrasts interestingly with the floral pattern, making this design ideal if you want something understated but quirky.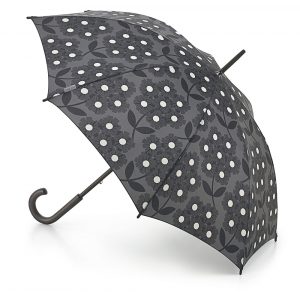 6. Cath Kidston: Kingswood Rose Charcoal
Opening her first store in 1994, Cath Kidston launched just under 140 outlets in under three years, both in the UK and overseas.
As she's most famous for her floral patterns, we've chosen this Cath Kidston design to feature in our list. If there's a motif that rivals floral in popularity, many people would say it's polka dot — which is why we love how Cath Kidston combines these two opposing patterns in the Kingswood Rose designer umbrella.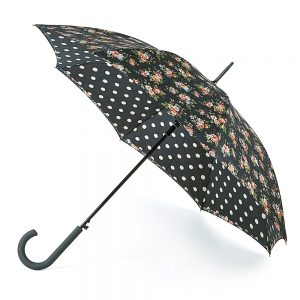 5. Lulu Guinness: Rainbow Lips
Appointed an OBE for her services to fashion and born Lucinda Jane Guinness, Lulu Guinness is a leading British fashion designer who specialises in accessories.
The bright motifs on a plain black canopy gives this design an ideal balance of colour — perfect if you're planning on taking the accessory to work and formal events! What's more, the special star-shaped design makes this umbrella stand out against the rest, while the lip outline is a signature emblem for Lulu Guinness. All in all, the Rainbow Lips umbrella is worth the investment if you enjoy this designer's range.
 
4. The National Gallery: Thames Below Westminster
Founded in 1824, the National Gallery in Trafalgar Square is one of the most visited art museums in the world and is home to more than 2,000 paintings dating from the mid-1200s to around 1900.
An emblem of British culture, this National Gallery Thames Below Westminster design offers a creative view of an iconic London scene. With Big Ben towering across the canopy and a palette of sepia-style colours, this umbrella offers a beautiful watercolour effect that perfectly complements rainy weather!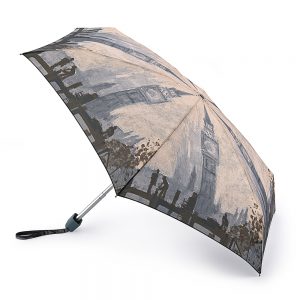 3. Lulu Guinness: Diagonal Stripe
In third place, we have another entry form Lulu Guinness. The amazing contrast of bold colours infuses this umbrella with an eye-catching appeal that makes it just as much a fashion statement as a necessity!
Featuring a bright red outer canopy with black and white bands underneath, the Bloomsbury Diagonal Stripe design offers a mesmerizing appearance that looks elegant and contemporary for fashion-forward ladies. We recommend matching it with red boots and a black coat for a complementary, flawless look!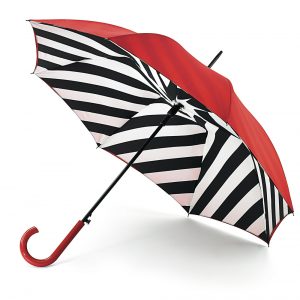 2. Cath Kidston: Dino Stamp
Cath Kidston is famous for her children-inspired fashion pieces. The designer loves using fun motifs, such as polka dots and flowers, in her products, which makes them perfect for youngsters.
We particularly like this Cath Kidston Dino Stamp umbrella and think it's a great purchase for youngsters who love being outside whatever the weather. Whether you're sending them off to school on a rainy day, or heading out to the park when there's drizzle in the air, kids will love the multicoloured dinosaur pattern — which features the brachiosaurus, stegosaurus, triceratops, and tyrannosaurus. Even better, this umbrella's canopy is clear to help highlight the colour and shape of the creatures!
Young boys and girls look especially adorable when you team this dinosaur-themed design with a bright pair of wellington boots!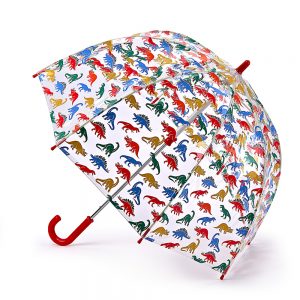 Winner — Lulu Guinness: Lovebirds
There's so much we love about this umbrella from Lulu Guinness. The fabulously fashionable dome shape is not only very on-trend, but the gorgeous imagery and clever birdcage effect make this design unforgettable.
Often, the issue with dome umbrellas is that sometimes the user doesn't have as much visibility as with other designs. Getting around this usually means making the canopy transparent, and therefore less interesting. However, the Lulu Guinness Lovebirds umbrella gives you a beautiful and distinctive design while providing excellent visibility.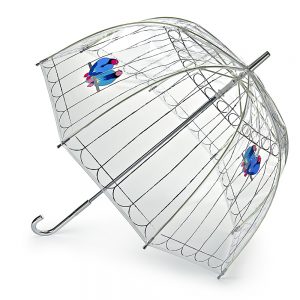 We hope you've found something you love from our top-seven list of designer umbrellas. Browse our other men's, women's, children's, and sports options for more choice.