At Fulton Umbrellas, we take great pride in our range of designer umbrellas. However, there's a lot even we don't know about some of the UK's most respected and iconic fashion brands.
From the quirky styles of the renowned Cath Kidston to the vintage motifs of the pioneering William Morris, we've delved into the lives of our best fashion designers to discover their signature styles, interesting careers and key life moments! Read on to find out more…
Cath Kidston
Born Catherine Isabel Audrey Kidston in 1958, this English designer, entrepreneur and author is most famous for her floral patterns, animal prints, vintage designs, and fun use of colours.
Cath Kidston, the daughter of a former Bentley racing driver, was raised in Hampshire and attended several boarding schools before moving to London at age 18. In a recent interview, she said that her cousin, a dress designer, was a major role model for her during her formative years. But, it was working for decorator, Nicky Haslam, that gave Kidston the confidence to launch her iconic range.
Kidston opened her first shop in 1993 in London's Holland Park, originally selling items of homeware and furniture. However, she claims that her designs were originally "out of sync" with the fashion of the time — so much so, that she had to run an interior design business alongside her Cath Kidston brand! Eventually, the world caught on to Kidston's beautiful creations and now, the brand is a respected name in the fashion industry with more than 130 outlets in the UK and abroad.
Today, Kidston has an MBE and is a keen publisher of several books. Although, you may remember one of her most recent successes — the adorable tank top that Prince George wore featuring the Queen's Guards in 2014!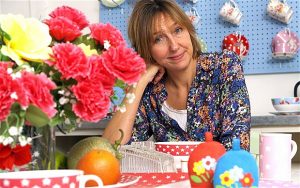 Find Cath Kidston on Twitter and Instagram.
Lulu Guinness
Lucinda Jane Guinness OBE, better known as Lulu Guinness and born Lucinda Rivett-Carnac, is one of the UK's leading fashion designers and, like Kidston, Guinness also calls Hampshire her home county. Although a respected fashion designer with decades of success, her childhood life aspiration was actually to become a glamorous entertainer — such as a singer, actress or ballerina!
The Lulu Guinness brand is famed for its sense of quirkiness and use of powerful prints. Beginning in 1989 with a focus on handbags, accessories and the famous 'lip motif', Guinness has always infused her collections with her sense of originality and humour. In fact, the designer cites anyone who doesn't have a sense of humour as her choice for a real-life villain!
This designer's eye for fashion has struck a chord with people and organisations from all pockets of society. For example, in the 1990s, the Victoria and Albert Museum placed a Lulu Guinness handbag in its permanent collections, which is a moment that Guinness describes as life-changing.
More recently, in 2017, Guinness announced the launch of her first clothing collection. Featuring her signature palette of red, black and white, the designer's ready-to-wear collection is designed with all women in mind — regardless of size or age.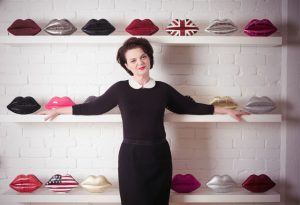 Find Lulu Guinness on Twitter and Instagram.
Orla Kiely
Irishwoman, Orla Kiely, was born in 1963, and started her illustrious career studying textile design in Dublin. She then went to New York to work in wallpaper design, before moving onto Esprit in London and choosing to focus her career on designing hats — which were eventually picked up by Harrods.
Since forming the Orla Kiely Partnership with her spouse, Dermott Rowan, in 1997, Kiely's designs have been worn by a stream of famous faces — from the Duchess of Cambridge to Hollywood star, Kirsten Dunst. Her dedication to her industry also earned Kiely an OBE in 2011.
In 2015, Kiely's company won Premium Brand of the Year at the Drapers Awards for her use of patterns and colours, and today, she creates four clothing collections every year — which can include bags, dresses, watches, furnishings, and homeware — with stores in London, Tokyo and New York.
Kiely is most highly regarded for her stunning prints, while her love for colourful retro and quirky motifs makes her brand instantly recognisable and effortlessly iconic.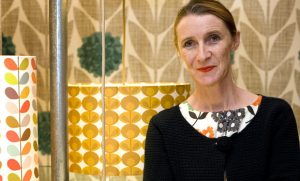 Find Orla Kiely on Twitter and Instagram.
William Morris
William Morris was born in 1834 and is commonly associated with the British Arts and Craft Movement (spanning from approximately 1880 to 1920).
Morris studied Classics at Oxford University before training as an architect and then later founding a decorative arts company. Within his role at the firm, Morris designed everything from fabrics and wallpaper to furniture and stained-glass windows.
Although his designs and poetry became famous across Victorian Britain, Morris was also well-known for his political views. He became a revolutionary socialist activist in his later life and even helped to found the Socialist League in 1884.
Morris was a firm believer that the creative and production sides of designing should be intertwined. In fact, he even felt that designers should also manufacture their own products, and took time to teach himself how to embroider and expertly dye his creations. Morris' collections take inspiration from medieval fabrics and the natural world, and he is regarded as a major advocate of environmentalism.
If you browse William Morris designs, you'll spot a palette of leaf motifs, floral prints and animal images with a captivating vintage aesthetic.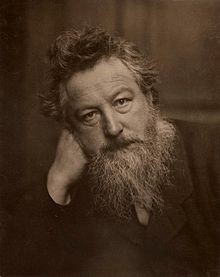 We hope you've enjoyed finding out more about some of the UK's leading designers. Discover a selection of beautiful products in our designer umbrella range today.