Many weddings take place over the spring and summer period, however, that doesn't mean brides and grooms are guaranteed a shower-free event. What's more, an umbrella could act as an eye-catching prop to enhance the décor.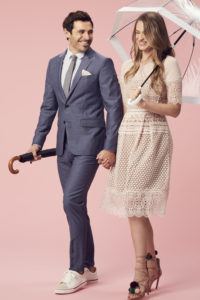 This blog will explore how a wedding planner or bride can use umbrellas to decorate their wedding venues and protect guests from any rainfall. Ideas can include: decorating plain designs to create quirky photo opportunities, providing a compact brolly under each seat at outdoor ceremonies, placing parasols on the back of seats to protect from sunlight, or opting for lace and ivory designs to add a vintage vibe to the day.
Protect your guests from showers
In the UK, many brides and grooms choose to have an outdoor wedding instead of a traditional church ceremony. If this is your plan, you must also bear in mind that our climate isn't always to be trusted — even in the middle of summer!
Make sure your guests stay dry from any sudden showers by placing a compact brolly under each seat. Alternatively, you could go for a larger design and let two guests share, which might also save space. Don't forget kids' umbrellas, too.
Unique photo opportunities
Do you want your wedding album to stand out? Then maybe you should think outside of the box when it comes to photography. Firstly, you could ask your wedding guests to pose for some group photos with a set of umbrellas that spell out you and your partner's names or customise your brollies with the date and venue of your wedding.
There are excellent photography tips available online to help you and your new bride or groom take a quirky and creative shot that both of you will love — and you can share it over social media for people who couldn't make your special day!
Help get the perfect photo
A rainy wedding day is rarely the ideal scenario but trying to get a good photo when the sun is very bright is also a pain. Solve the issue and make sure you get plenty of incredible shots of your wedding by using a brolly to shade the glare of the sun!
One placed under each guest table should be enough to make sure everyone gets a good group photo.
Get your bridesmaids to the church
If you're unlucky enough to have a rainy wedding day, you'll need to ensure that you and your bridal party can get to and from the ceremony without getting drenched. To be safe, make sure each car is packed with a few compact umbrellas.
So, if the weather is pretty bad on the day, you and your perfectly-dressed bridesmaids will still look incredible when it comes to heading down the aisle.
Create a vintage affair
Many soon-to-be-brides and grooms like to have a lot of say when it comes to how their weddings are decorated, rather than just passing the job onto a professional. If this sounds like you — and you adore the vintage, traditional look — you can create a beautiful, old-time feel with a white, lace parasol.
Get these in a petite size and use them as a centrepiece for each table, using a pot filled with pastel-coloured flowers to keep them in place. Or, buy a set that match your bridesmaids' dresses and the colour theme of your wedding.
Entertain your younger guests
Are you anxious about making sure little ones are kept busy and entertained at your wedding? If you want to offer them an activity that isn't too loud or obstructive, why not get a few plain brollies, pens, glitters, stickers, and other craft pieces to let them customise their own umbrellas?
Not only is this a quiet activity, but they'll also have something that they can take home with them at the end of the day!
Forget a wedding book
If you really want to bring something different o your big day, why not ask your guests to sign a message on an umbrella instead of a standard wedding book?
You can then hang this in your home somewhere as a decorative piece that won't simply get put on a shelf after the big day.
There are plenty of nice ideas for using umbrellas on your wedding day. Browse our ranges of men's, women's, sport, and designer items before you go.