At Fulton Umbrellas, we offer a wide range of designs and colours to create our collection of umbrellas. So, we know how attractive a brolly can look! But how are umbrellas used in art? Can they help create timeless pieces and do they inspire people when used in public displays?

Here, we look at the influence of umbrellas in public displays, films, songs and paintings to find out how important the everyday, essential accessory is in art…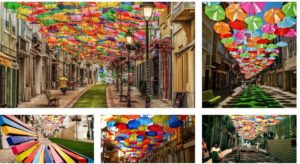 Public displays
Recently, there's been a huge trend for incorporating the umbrella in public art displays all over the world. In Salisbury, a technicolour canopy of brollies was put on display in the city centre in July — which included 90 umbrellas hanging over the High Street — while in Florida, a pedestrian promenade is the latest location for the Umbrella Sky Project, which is an internationally renowned public art exhibition launched in Portugal years ago. Visitors to these exhibitions are also encouraged to upload pictures of the display on social media and use hashtags to help spread the umbrella-enhanced art around the world!
These are just a couple of examples of how innovative public art displays can be, and it's clear that seeing a network of umbrellas suspended — as if by magic — above ordinary locations can really draw in the crowds. But, can umbrella art also help our high streets by attracting greater numbers of visitors and tourists?
Apparently so. A canopy of colourful brollies was implemented in the name of art in Carrickfergus, Northern Ireland earlier this year, which Mayor of Mid and East Antrim, Paul Reid, claimed was a fantastic example of how an area can "attract people into town centres and develop a more vibrant atmosphere". Similarly, an exhibition of hundreds of painted umbrellas was used to help build on the city of Da Nang's tourism success in 2017. The Vietnamese city was named one of the top ten holiday destinations in Asia in the previous year and this garden of colourful brollies was a large part of its effort to retain its status as a leading tourist destination! It seems that, regardless of culture, everyone has an affinity for umbrella-inspired art exhibitions — but what about other art forms?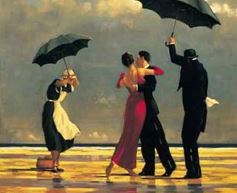 Paintings
Even in paintings, the umbrella can play an iconic role. Most people will recognise The Singing Butler oil-on-canvas painting that was created by Jack Vettriano in 1992. It features a man and woman dancing in their finery on a damp beach, flanked by their maid and butler who both hold up a black umbrella each in an attempt to protect the couple. Clearly, this painting meant a great deal to someone, as a private collector bought it for £744,800 in 2004 — a record sum of money for a Scottish painting at the time!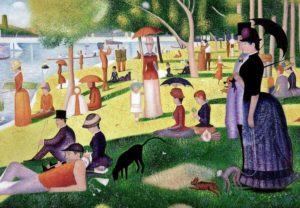 If you don't recall Vettriano's masterpiece, you'll surely know A Sunday Afternoon on the Island of La Grande Jatte by Georges Seurat. Created in 1884, this work of art displays a crowd of elegantly dressed Parisians relaxing by the River Seine, using umbrellas — or parasols — as chic shields from the sunshine. Currently, the masterpiece is on display at the Art Institute of Chicago, which reportedly paid $24,000 for it in 1924.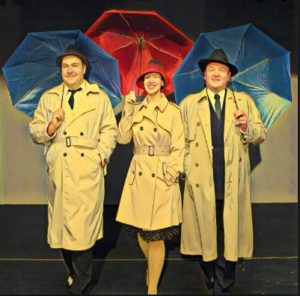 Film
As umbrellas are handy — arguably must-have — items, it's no surprise that they feature significantly in the world of cinema. Who can forget Jiminy Cricket's most famous prop, a red umbrella, which featured in Disney's 1940 version of Pinocchio? And of course, there's the 1952 smash-hit, Singin' in the Rain, starring Gene Kelly and Debbie Reynolds. This classic would never have been the same without the renowned scene where Kelly dances in the street with his black umbrella as the rain pours down all around him.
Then there's Julie Andrews' character in Mary Poppins, who flies in and out of London using an umbrella, Harry Potter and the Philosopher's Stone, which features Hagrid lighting a fire with a spark from a brolly, and My Fair Lady — a film that depicts its leading character, played by Audrey Hepburn, using a beautiful white-lace parasol that has now become one of Hollywood's most iconic and sought-after props.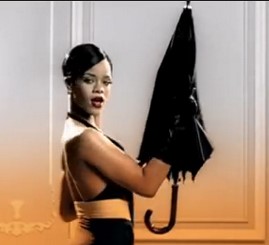 Music
Even in music, the umbrella is a popular lyric and prop. Most recently, global star, Rihanna, had massive success with her song Umbrella in 2007. Reaching number one in many countries across Europe, as well as Australia and the US, Umbrella claimed the top spot in Entertainment Weekly's '10 Best Singles of 2007' and won two accolades at the MTV Video Music Awards. Interestingly in the UK, the song was classed almost as a curse, due to the fact that it reached and stayed at the number one spot in the charts during a spate of extreme rainfall and flooding!
Elsewhere in the musical world, the brolly has also been mentioned in songs such as Dean Martin's The Lady with the Big Umbrella, Bing Crosby's Let a Smile Be Your Umbrella, The Hollies' Bus Stop, and Faith Hill's Red Umbrella.
Clearly, we love umbrella art all over the world in a variety of forms! Get your own art-inspired brolly from our National Gallery collection, or browse a range of other stylish designs in our men's, women's, children's, and sport selections.