We're all counting down the days until Christmas Eve — cosy nights in by the fire watching our favourite festive films with the family. As the night comes to a close, families around the world will be preparing milk and cookies for Santa Claus and carrots for his merry crew.
The World Bank suggest that there are 7.53 billion people on the planet, and if each person believes in the Christmas spirit, Father Christmas will have a lot of milk and cookies to consume. Although we put these yummy treats out with good intentions, Santa Claus can become full after a while.
So what else could Santa benefit from this Christmas? Hmm… let's think!
1.    Umbrella
As one of the leading manufacturers of umbrellas in the UK, we know that a windproof umbrella would make the perfect companion for Saint Nic on his travels. Breaking down the science behind Santa's sleigh journey, if he has to travel 510,000,000km on Christmas Eve with around 32 hours to complete the job, he will be travelling 1,800 miles per second.
Of course, travelling at such speeds will be a challenge; don't ask us how he does it, it's one of the best kept secrets in the world. By using his windproof umbrella and positioning it at the front of his sled, he'll be able to block the icy breeze and enjoy a much more comfortable ride.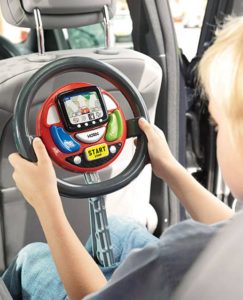 2.    Sat-Nav
A little birdie from the North Pole tells us that Santa Claus still uses his magical map to find the homes of those on the Nice List — and has done so since the beginning of time. However, technology has developed rapidly since his first-ever journey across the world.
Equipped with a modern sat-nav or GPS system, he can plan his route more efficiently before he leaves the workshop. With the help of Mrs Claus, a route with multiple stops can be created to make sure that he doesn't miss out any house during his trip.
3.    Smartphone
Everywhere you go, you'll see someone casually scrolling through their smartphone. Although Saint Nic isn't up to speed with the likes of Instagram and Snapchat, he could do with a device that allows him to make a few calls to his head elf back at home to make sure everything is running smoothly.
By installing apps like 'Find My Friends', Mrs Claus will also be able to track his whereabouts throughout the night to make sure that he's safe.
4. Night Vision Goggles
Although Rudolph lights up the way with his bright red nose, it can still be difficult for Santa to see where he's heading — and we know that children try to stay up super late to spot him in the sky. As this can become a problem during his shift, we propose night vision goggles!
Using this spy-like gadget, he can remain extremely discreet and be able to see where he is going at the same time! With Rudolph getting older now, it might be time for him to take some deserved time off work too…
5.    Wireless Headphones
We all know that no journey is complete without listening to music, so why should Santa and his reindeers miss out on this luxury? Using his new smartphone, he'll be able to connect the two devices together and create a playlist for his trip around the world.
Of course, on that playlist he'll need some Christmas songs. We reckon 'All I Want For Christmas Is You' by Mariah Carey, 'Fairytale of New York' by The Pogues and Kirsty McColl and 'Do They Know It's Christmas' by Band Aid. What would you recommend?
With Christmas just around the corner, what have you asked Santa Claus for Christmas? Let us know! Remember to Get Festive with Fulton and shop our must-have Crimbo gifts this season too!