London Fashion Week has just closed and we've seen some incredibly creative fashion filling our capital's runways. From next season's in vogue colours to its on-trend prints, you can spend hours looking over fashion inspiration for AW18.
At Fulton Umbrella's, we always keep up with new ideas in fashion to make sure our umbrellas stay stylish. So, which trends from London Fashion Week AW18 promise to be the most popular, and how can we customise these with the perfect brolly? Let's take a look…
For ladies
Vintage chic
London Fashion Week AW18 breathed life back into vintage fashion. From high-neck dresses to bow embellishments, Victoriana stylings are set to make an elegant comeback in 2018. Take Simone Rocha; her show was illuminated by the gentle light of a chandelier while her models walked in pearl-decorated flat shoes and beautiful, ruffle, lace dresses.
If you're a fan of vintage fashion, you can get the look too by opting for lace, tulle and silk clothing with long hemlines and Edwardian scoop necklines. Accessorise with the perfect umbrella by opting for our Vintage London design from National Gallery or carry on the trend for traditional fabrics by bringing this Navy Brocade umbrella into your outfit.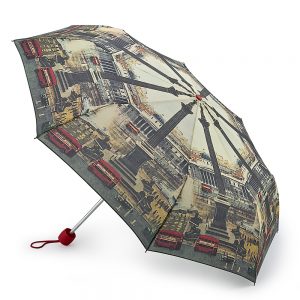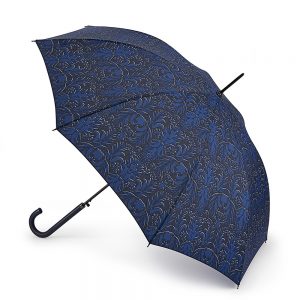 Rainbow colours
Over at the Burberry show, guests were dazzled by a spectrum of colour. From blush pink sweatshirts and technicolour puff jackets, to violet dresses and rainbow capes; the brand's now former creative director, Christopher Bailey, brought the catwalk to resplendent life.
Fancy getting in on the multi-coloured trend, too? Don't shy away from wearing bold, contrasting colours in the same outfit — try donning a forest-green trench coat with bright-blue jeans. For the perfect matching umbrella, we recommend the Rainbow Check or Spot the Dot designs!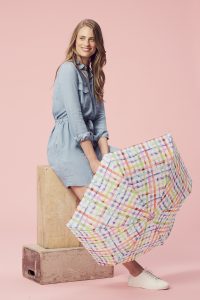 Animal prints
From zebra-print, cold-shoulder tops at Halpern's London Fashion Week show, to leopard print coats on the Tom Ford catwalk; animal patterns are going to be big in autumn and winter this year. Pick out a staple, creature-inspired piece and then work your outfit around that next season. Since it's for autumn and winter, why not go for a snakeskin-print jacket? Or, if you prefer to keep it subtle, simply opt for a chic, tiger-print clutch bag.
We have plenty of animal-patterned umbrellas in our collections, but two of our favourites are the Bob Cat pattern and Acid Leopard design.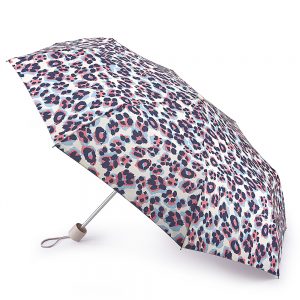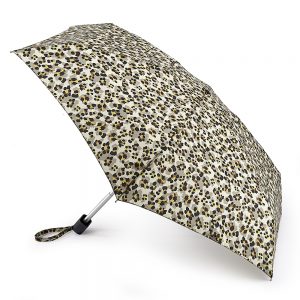 For gentlemen
Off-duty workwear
The gents also have plenty of stylish new trends to get started on for AW18. In London Fashion Week, we noticed a lot of fashion pieces inspired by traditional work clothing. Think cargo trousers, hardwearing fabrics, reflective embellishments, and clothes with a work-ready palette of navy, grey and khaki. Comfort and practicality are two words to live by when dressing for AW18 as a gentleman, but which brolly matches?
If it's durability and efficiency you're looking for, few umbrellas have the work ethic of the Cyclone. Able to withstand wind speeds of up to 78mph and possessing a super-strength construction, this design will make sure you get to and from work with ease.
Plush appeal
One of the most luxurious materials in the world, velvet will be a fabric-of-choice next season. Opt for a velvet tailored blazer to spruce up a formal outfit, or why not try velvet trousers with a work-prepared white Oxford shirt for the ultimate on-trend look?
For the perfect umbrella complement, we recommend a designer design, such as the Raining Dog brolly from Joules Kensington.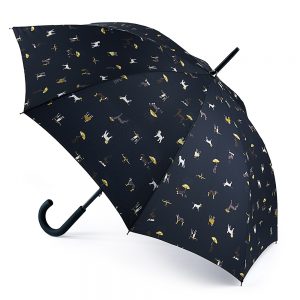 Checkmate
There are a lot of patterns and prints that promise to play an in vogue role in autumn and winter this year, but few will make an impact quite like the check design. Whether subtle and neutral or bold and contrasting, check clothing is a top trend to incorporate into your AW18 wardrobe. How about going for a few new checked shirts, or a check-patterned tie for work? If you're already a fan of the print, checked and tartan trousers look great with a plain polo top!
Of course, you may just want to give a nod to the check trend. If so, treat yourself to a Window Pane Check or Charcoal Check umbrella.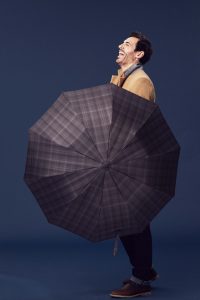 We hope you've found some styles you're looking forward to flaunting next season. Browse our range of men's, women's, children's, and sport umbrellas before you go.