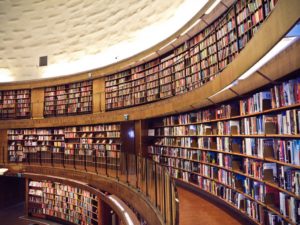 7th March marks the annual celebration of and the team here at Fulton Umbrellas couldn't be more excited. Whether you're celebrating at school or in the office like us, nothing feels more exhilarating than revisiting some of our favourite books and channelling the looks of the most iconic literary characters.
We take a look at some of our favourite characters — see if you can spot the running theme…
1. Rubeus Hagrid
Hagrid has become a household name around the world after appearing in J.K. Rowling's Harry Potter book series. According to the author, the character was one of the first to be created and stated that the name come from an old English word that meant 'you'd have a bad night'. This was well associated with this particular character because he was a big drinker and experienced a lot of regrettable nights!
In the book, Hagrid was forbidden to use magic after his expulsion from Hogwarts School of Witchcraft and Wizardry and the Ministry of Magic broke his wand as a result. However, Hagrid kept the broken pieces inside of his pink umbrella and performed small spells from time to time — such as giving Dudley Dursley a pig's tail and opening up Diagon Alley!
2. Mr Tumnus
Everyone who has ever read The Lion, the Witch, and the Wardrobe by C.S. Lewis loves Mr Tumnus. This character was first introduced to the literary world back in 1950 and was actually responsible for the entire book series. The author admitted that a picture of a Faun carrying an umbrella and parcels in a snowy wood had been in his mind since the age of 16.
However, it wasn't until CS Lewis was in his 40s where he decided to develop the world and create this story we all know and love. And how awesome is it that a best-selling book idea came from an umbrella?
3. John Darling
Quintessentially the most British literary character of them all, John Darling from J.M. Barrie's Peter Pan is kind of friend we want in our group. What makes this character stand out from the crowd is his witty one-liners, over-the-top reactions, and of course, his Neverland attire — don't judge him, it was late at night when they travelled second star to the right and straight on till morning.
His Neverland attire included his pyjamas, top hat, and his umbrella (as he could never bring himself to leave without such items)! We're beginning to spot a trend with some of our favourite characters here…
4. Mary Poppins
P.L. Travers brought us the joy of Mary Poppins and the Banks family. Countless books and two films later, this is one story that has truly merged itself with British culture. The character, who was blown into our lives by the East wind, accepts a nanny job to look after the children at Number 17 Cherry Tree Lane in London until the wind changes.
With a magical touch to her presence, the children experience a tea party on a ceiling with Mr. Wigg, a trip around the world with a compass, the purchase of gingerbread stars from Mrs. Corry, meeting the Bird Woman, a visit to the zoo, and more. However, then the wind changes, she opens up her umbrella and the West wind carries her away! Next time she should bring her windproof umbrella…
5. Christopher Robin
One thing we admire about British literature is the friendship that blossomed between Winnie the Pooh and Christopher Robin in the world created by A.A. Milne. Christopher Robin is one character that often takes an umbrella with him when out and about and even uses it in the first story — to deceive some bees!
As well as this, him and Pooh set sail in an umbrella named the 'Brain of Pooh' when Piglet, another fascinating character in this world, is surrounded by water!