You may have settled back into the work-life routine, but that's not to say that it shouldn't be unsettled with a little European getaway. You deserve it — you've survived the hardest two months back in the office after a delightful period away spending time with your family and friends.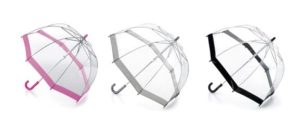 With many European destinations just a short flight away from almost any major city in the UK, we take a look at some of the locations that you should be packing your birdcage umbrella for and why a little downfall shouldn't put you off a visit. These cities have much more to offer so don't rule them out!
1. Podgorica, Montenegro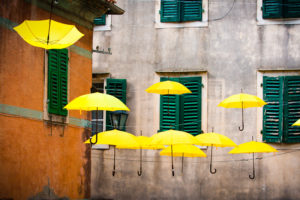 Although Podgorica might not be the first thought on your mind when thinking of booking up, the mountainous city offers a mixture of modern and historic culture which is perfect for anyone looking for an adventure this year.
However, you should definitely be packing your umbrella on this trip. This destination is noted to be the rainiest city in Europe with an average 65.4 inches of water landing each year; but don't let that put you off! The city prides itself on the beautiful Morača River and its modern Millennium Bridge, as well as the Ribnica River which is home to the stone bridge. While you're there, take a trip to the historic pilgrimage site Ostrog Monastery and Independence Square which is the sociocultural hub of the city!
The picturesque landscape also includes Lake Skadar where tourists can carry out bird watching, fishing, and hunting activities. If you're looking for something more exhilarating, you could rent a boat and take a swim in the waters.
2. Ljubljana, Slovenia
We get it, you've always thought about visiting Slovenia. But did you know its capital is the second rainiest city in Europe? Ljubljana is reported to have an average rainfall of around 53.9 inches per year. The city itself however, is known for both its old town and commercial hub which covers all the wants and needs for any traveller.
There's so much that can be done in this city, and it's known to be a hit with young people (especially students). The curving Ljubljanica River makes for the perfect Instagram selfie spot too, and a boat ride trip should be arranged in advance to make sure you get all the right shots.
While you're around, make sure you take a trip to the Ljubljana Castle which one of the main tourist attractions of this city and stands on Castle Hill. Other things to do in Ljubljana include Tivoli City Park, the city zoo, central market and one of the historic cathedrals and churches.
After a long day of exploring, there are plenty of quaint and quirky cafes, fine dining restaurants bars that you can let loose in. Head to Prešeren Square for all of the action!
3. Tirana, Albania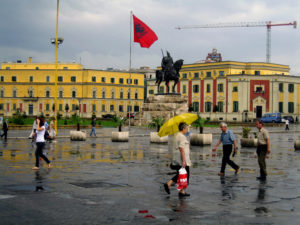 Albania is reportedly becoming a more popular holiday destination for Brits, but did you know its capital Tirana is the third rainiest city in Europe? With an average downpour of 48.0 inches each year, you shouldn't let a little drizzle put you offer a visit to this upcoming city.
If you and your travel companion appreciate exquisite architecture, this Ottoman-, Fascist- and Soviet-era building work will definitely impress. If you're a lover of history, this city is full of it. The National History Museum offers an insight to prehistoric times through Communist rule and anti-Communist uprising in the 1900s while the National Arts Gallery presents some of the finest artwork in a timeless exhibition.
Take your trip to new heights with a visit to the Dajti mountain and national park. You'll be able to enjoy a cable car ride and take in the great surroundings of the area. When it comes to dining, you're truly spoilt for choice with plenty of local cuisine to try out!