Social Swing: How Tennis Player's Influence Serves a Solid Return
Wimbledon is back again, ready to serve up some much-needed tennis enjoyment. But perhaps you've noticed a change this year. Has it been the smaller crowd of spectators, or maybe an increased unwillingness to share our strawberries and cream?
There are also fewer recognisable tennis stars to applaud, Rafael Nadal and Naomi Osaka have dropped out the Tennis Championships, citing the need for further recovery from the coronavirus pandemic. However, we can still cheer on Scottish racket star Andy Murray as he continues his triumphant return to the courts.
There's a lot to play for. In fact, players will vie for their share of £35 million in prize money. Winners of the singles event will take home a whopping £1.7 million. It's not an awful pay packet for 14 days of work.
But is there more earning potential on the social side of tennis? It's fair to say that our favourite tennis players have become more than sports stars, instead becoming A-lists celebs with lifestyles we enjoy following on social media. Their large fanbases have allowed them to surmount millions of followers and huge brand and advertising deals. But how can their Instagram earning potential compare to their winning on the court?
Game, set, match, and snap
We've collected new data that reveals the social media earning potentials of the world's best tennis players. Using this data, we can calculate how many sponsored Instagram posts they would need to publish to earn the equivalent of their winnings so far in the 2021 season.
We've compiled data on the top 20 tennis stars, based on their international ranking, for both male and female categories. By calculating their social earning potential, we've compared their influence and their earnings this year so far. This will indicate which tennis stars could pose their way to the top, as opposed to swinging the racket. Surprisingly, for some of our tennis favourites,  hitting balls doesn't pay the bills as well as the likes on Instagram do.
Number one for what?
Despite both having been world number one holders, Roger Federer and Serna Williams now place eighth in the respective leagues, This is still an impressive feat, especially after their long and history-making careers.
Williams is regarded as being one of the greatest tennis players of all time. On the sixth occasion that she held the ranked number one, she held the title for 186 consecutive weeks. The tied with a record set by Steffi Grant, Williams also holds the record number of 23 Grand Slam singles wins in the open era, more than any other player.
Meanwhile, Roger Federer holds an impressive record sheet. Not only has he won Wimbledon more times than any other player, he has won the man's singles titles, tied with another tennis legend, Rafael Nadal,
Why are we shining a spotlight on Williams and Federer? Well, thanks to their social media earning potential, they may have been better off posting some pictures than competing in 2021.
Williams has earned £589,598 prize money in 2021 so far. But, as she can earn up to £31, 083 per sponsored Instagram post, she can earn this in a mere 19 photos.
Federer, on the other hand, could earn £19,450 per Instagram post. He needed to have only published 11 paid Instagram post to exceed this £204,541 earning this year so far.
It seems that on- and off-court, William and Federer are still dominating the world.
Current world number ones, Novak Djokovic and Ashely Barty, while having a successful year on the court, may want to keep swinging. Barty has won £866,689 so far this year, meaning she would have to snap 1,105 pictures on Instagram to match her earnings.
However, Djokovic has an easier job, needing only 155 pictures to match his £2,977,657 pay from 2021.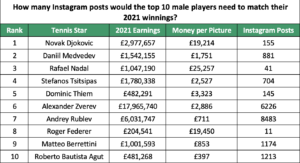 Missing out?
As mentioned, Rafael Nada and Naomi Osaka are set to miss both Wimbledon and the Tokyo Olympics due to their concerns with coronavirus. As world number three and two in their respective leagues, they risk dropping in the rankings. But they also risk surrendering their share of the prize money.
Wimbledon's £1.7 million prize for both singles categories is a huge amount- enough to justify hitting the courts. But Nadal and Osaka may find more luck in serving pictures than small green balls.
Osaka can earn £5,286 per Instagram post and Nadal could earn a whopping £25,256 per post. The means the pair would only need to post 322 times and 68 times respectively to match the winner's prize.
It seems that missing out the odd tournament may not be such a bad idea if it gives these tennis stars more time to snap some pictures.
Of course, they shouldn't retire the rackets just yet, Over their careers, Osaka has earned grand total of £14,308, 024 and Nadal has earned £89,954,780. You'd have to have a very busy Instagram feed to match huge cash pots.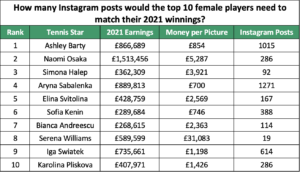 Will you be watching Wimbledon this year? Our only choice may be watching from home, but at least between the matches, we can check out our favourite tennis stars on Instagram. Remember when you drop some likes on their social feeds that you're helping to continue to that grand slam win beyond the court.
if you're watching Wimbledon from an outdoor space, make sure you're prepared with a designer umbrella, windproof umbrella or men's umbrellas and women's umbrellas to ensure that your day goes off without a hitch.