Undoubtedly, the royal looks served at Wimbledon have become as iconic as the game itself.
With the championships underway, we wanted to spend some time admiring the Royal Family's most famous outfits to inspire your Wimbledon style- whether you're watching from home or the courts.
Tennis whites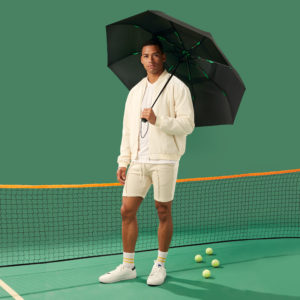 Tennis whites are perhaps the most classic of Wimbledon fashions. Player began to wear white, believing it would keep them cooler during warm summer days.
Now, it's become a popular choice for spectators too, with many wearing white or cream-coloured outfits. Kate Middleton, a known tennis enthusiast, has often chosen to wear 'tennis whites' since her Royal debut at Wimbledon in 2011, where she sported a white Temperley dress complete with a layered pleated skirt.
Since then, Kate has shown off variations of tennis whites, from the Alexander McQueen nautical-inspired knit dress in 2012 to the Suzannah white shirt dress in 2019.
Go bold
It you'd rather go for colours that match the summer season, there are plenty of examples of the royals gracing the courts with bright and bold outfits.
Queen Elizabeth chose a glorious turquoise for her first visit to Wimbledon in thirty-three years. Forty years before this, Princess Margaret stood out from the crowd in a green and crimson contrasting outfit.
Kate Middleton is also well known for adding blooms of colour to the courts- dressing head-to-toe in shades of pink, yellow, blue, and green. We're particularly fond of her 2018 Dolce & Gabbana dress, which brought sunshine yellow and beautiful butterfly sleeves to the men's singles final.
Stripes 
While male Royal Family members have been wearing striped suits to Wimbledon for years, the choices of stripes has been better encapsulated than by Meghan Markle.
in 2018 the Duchess of Sussex turned heads in the best way possible with her Ralph Lauren ensemble, featuring wide-legged cream trousers and a loose yet sleek blue-and-white-striped shirt. Completed with a straw fedora, Meghan's non-traditional look turned stripes into a top summer fashion trend that we still can't get enough of.
Then in 2019, Meghan famously went against the dress code with a more causal style, featuring denim jeans paired with a plain black top and a creamy striped blazer for a hint of formally.
Blazers
Speaking of blazers- there has been no greater of the smart-causal dress code of the Wimbledon Royal Box.
Over the years, Princess Diana stunned crowds with her blazer-clad outfits. In 1991 she brought a bold summer vibe to Wimbledon with a purple-printed blazer contrasted over a brilliant white pleated skirt. Or, if you are prefer something more muted, Diana did that in 1993 with a blush pink skirt-blazer combo highlighted with gold detailing and jewellery.
Blazers can add an instant splash of elegance toy our outfit and are versatile enough to complete any look, whether smart or causal. They can also keep you cosy when the sun decides to hide behind the clouds. However , we'd advise picking up one of our stylish sports umbrella to shelter you from the capricious British summer rainfall!
Whatever the weather, the Royal Family have been bringing statement looks to Wimbledon for nearly as long as the championships have been taking place.
What better way to celebrate the return of Wimbledon this year than by hosting parties, sipping champagne and, of course, using this style guide to make sure you're dressing the part!
Source:
https://www.wmagazine.com/story/meghan-markle-wimbledon-dress-code-jeans
https://metro.co.uk/2021/06/28/why-do-wimbledon-players-wear-white-14829215/#:~:text='Tennis%20whites'%20at%20Wimbledon%20reportedly,cooling'%2C%20it%20was%20thought.
https://www.nowtolove.com.au/fashion/fashion-trends/royals-wimbledon-64417
https://www.townandcountrymag.com/society/tradition/g37003043/royal-family-playing-tennis-photos/
https://www.tatler.com/gallery/royals-at-wimbledon
https://www.vogue.co.uk/celebrity-photos/gallery/royals-at-wimbledon
https://graziadaily.co.uk/fashion/news/royal-fashion-wimbledon/