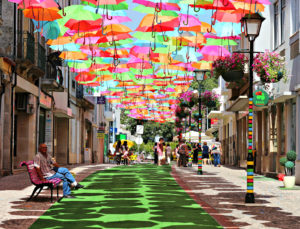 While we often forget our umbrellas when we need them the most, they can also come in handy for a range of unsuspecting purposes. Umbrellas are versatile, and you could get more use out of your trusty rain shelter than you first thought with some handy tips in this guide. Let's take a look at some clever brolly innovations!
Art installations
Back in 2017, the Coppergate Shopping Centre in York gave shoppers shelter from the rain beneath an array of suspended umbrellas, a vibrant display which made visitors smile come rain or come shine. It was a slightly tongue-in-cheek instalment, after the centre had previously fitted a beach area, complete with deckchairs and a sandpit, to celebrate a hot summer in the same year. However, the rain soon returned, and the success of the beach was short lived; so the street became a canvas for what was named the 'Brollywalk', and many passers-by stopped to admire the eclectic tribute to the classic British summer. In this way, umbrellas became a cheerful, artistic take on the impromptu-showers that we all know and love (when we've got an umbrella with us, of course!). Umbrellas come in a whole host of colours and prints, and they can make for quirky centerpieces or event decorations, so why not opt for something a bit different!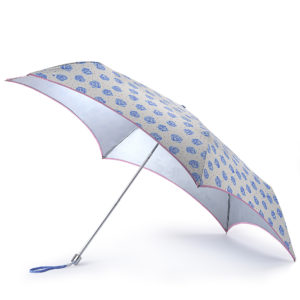 Sun shields
When the forecast heats up, us Brits all change into our summer wardrobes and leave the umbrella at home in favour of a trendy pair of sunglasses. However, consider packing your umbrella when the temperature hits double figures, as the intensity of the sun can require some shelter. An umbrella provides a portable escape from the sun and shade from the harsh rays. Take the Parasoleil UV Spotty Rose umbrella we've developed for example, with a UPF 50+ label, you'll be protected from up to 99% of UV rays!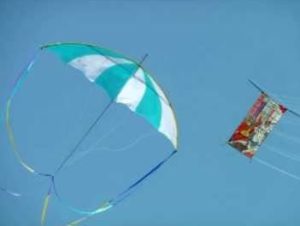 Kites
Did you know that you could make the perfect afternoon pastime from an old umbrella? With a bit of adjustment, an old umbrella could become a kite! Repurpose it by manipulating the wire frame or adding some wooden rods to create a kite shape. Then, use a ball of string and a makeshift handle to complete your invention, and enjoy the challenge of making it fly. Autumn and winter are the best seasons for trying this out, as it tends to be windier which makes for optimum kite flying conditions!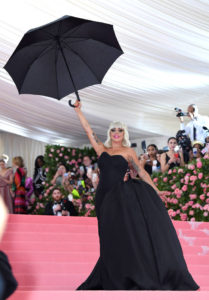 Fashion statements
Umbrellas come in a whole host of prints and colours, allowing people to express their individual styles in a unique way. Whether you keep it sleek and co-ordinate your prints or colours, or you choose to brave a bold contrast, an umbrella can make for a trendy addition to everyday attire. For some star-studded inspiration look at Lady Gaga's recent Met Gala outfit choices, one of which included a black umbrella to match her extravagant dress. Her entourage of dancers also held umbrellas around her, making her appearance on the iconic Met Gala stairs an impressive spectacle.
So, which one will you try out? Remember, you don't have to save your umbrella for a rainy day!